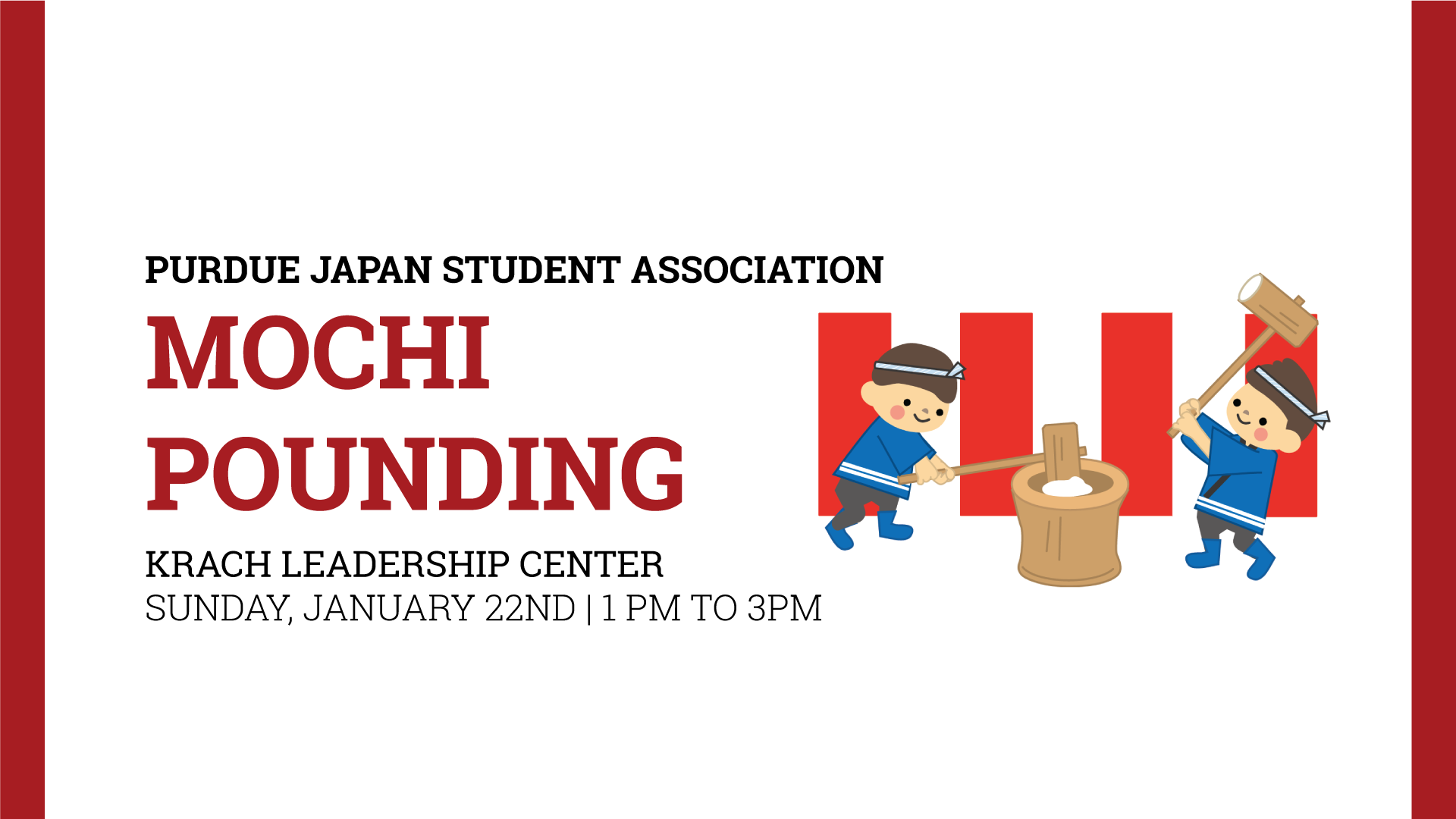 Come pound your own mochi at Purdue JSA's hands-on mochi pounding experience and enjoy the fruit of your labor!
Purdue University's Japan Student Association will proudly be hosting their Annual Mochi Pounding event happening Sunday, January 22, from 1 PM to 3 PM on the first floor of Krach Leadership Center.
Cick Here to RSVP
=== What is Mochi Pounding? ===
Mochi-tsuki (餅つき) is the process of pounding special rice to make mochi (rice cake) that many of you know and love.
Though many in Japan enjoy pre-packaged mochi, many still enjoy their mochi through traditional preparation methods as it allows socialization with your family and friends as you prepare this labor-intensive dish.
Afterwards, the mochi is shaped and flavored to the family's or local area's preferences. We will have a variety of ways for you to enjoy your hard work!
Following flavors will be available: soy sauce, kinako, sweet red bean paste, seaweed, and ozoni-styles
=== Pricing Information ===
If you are a paid JSA member, you will not have to pay the entrance fee!
If you are not a member of JSA, the entrance fee will be $3.
We will also be selling membership at the door for $5 (semester membership) which yields you extra benefits and future discounts for JSA events!
We hope to see you all there! If you have any questions or concerns, please do not hesitate to contact us here or at contact@purduejsa.org.
=== Example of Mochi Pounding (Mochi Tsuki) ===
Last Year's Purdue JSA Mochi Pounding Photos:
https://www.facebook.com/pg/purduejsa/photos/?tab=album&album_id=1660906870814112
Ebisu Shrine Mochi Tsuki:
https://www.youtube.com/watch?v=nuzerLcJhnE
Super Fast Mochi Tsuki:
https://www.youtube.com/watch?v=G2I5dRjuV7k